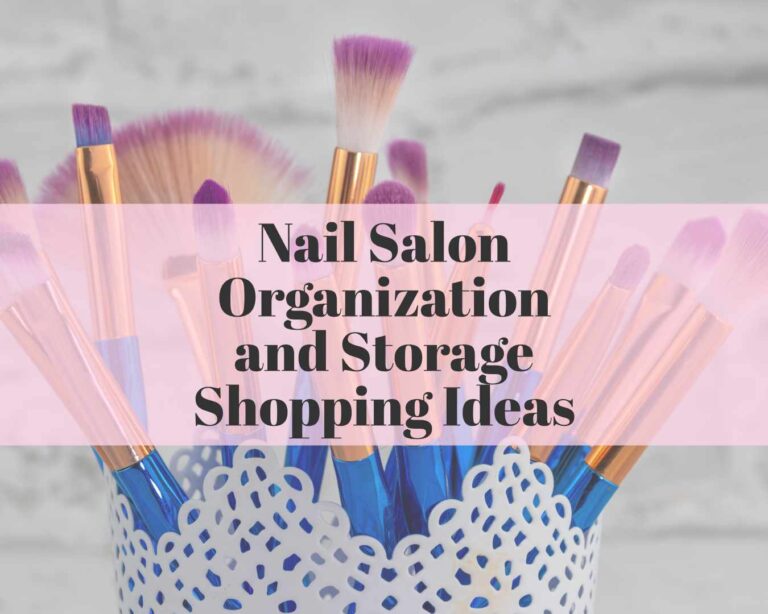 Nail Salon Organization and Storage Shopping Ideas
This page may contain affiliate links. If you want to buy an item please consider using my links, at no extra cost to you.
Being a nail tech today is amazing seeing that there are so many new and exciting tools and equipment to use that make your workload easier. And don't even get me started on all of the different color acrylic powders, gel polishes, different art, and gel brushes, glitter variants, stickers, stamping plates and so, so much more. 
It makes being a nail tech super fun and exciting, but as your collection grows you can soon become overwhelmed by a lack of space. Here are some ideas that I've put together that will make organizing your nail salon so much easier even if you have a small space.
Let's start with the walls, shall we? Seeing that many nail technicians start working in small areas and making any space work, you have to utilize every inch, even the walls. As a nail technician, you don't need much space initially, especially if it's just you working there and not multiple nail technicians.
Every nail technician needs at least one sturdy and spacious cabinet. You can start by picking the right nail desk. Choosing a simple one without any drawers might seem cost-effective, but trust me, it is so much better to have a functional desk with at least one drawer. Having some extra cabinets nearby will also help keep your space organized and keep everything you need close by.
There are some things that you will have to keep on your table. And as you purchase more tools your table can quickly become crowded. These pieces are great for keeping your table clean and organized as well as minimizing clutter.
Having a bunch of cabinets and drawers is great, but you will soon realize that you'll need alternative ways to keep your cabinets from becoming disorganized and cluttered.
This is especially great if you have a smaller space. Purchasing things like a storge poof or end table is great seeing that it has multiple functions which you can incorporate into your nail salon. These storage pieces work best for things that you don't use too often but still need nearby when doing nails.
If you found this post helpful or enjoyable please share it with your friends and family.