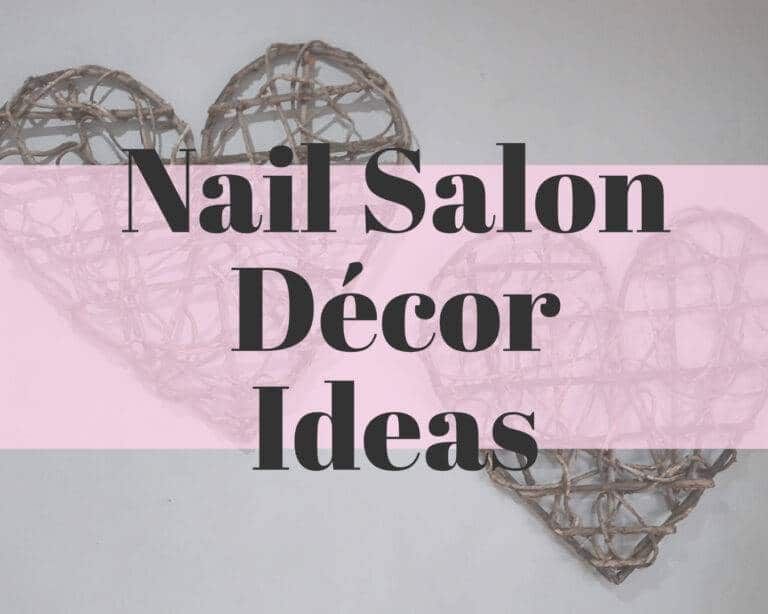 This page may contain affiliate links. If you want to buy an item please consider using my links, at no extra cost to you.
A nail salon should be a place of relaxation for your clients. Having the proper décor is very important when designing the layout for your salon. Here are some décor ideas that you can use and implement into your own salon to create a space where your clients can unwind and relax. 
There are so many amazing vinyl designs that you can use in your nail salon. It can be placed on a window or even walls for interior design purposes. Having a creative design with a cute quote is great for when people approach your salon. A vinyl decal can many times be customized to create your own design and size.
Cute prints for working women
Nothing says professional work space like some beautiful lighting fixtures. These are so beautiful. They come in an array of different colors and sizes. Give your work space a magical feel with mason jars filled with fairy lights with some artificial flowers to top it all of. It is simple yet elegant.
Glass bulb planters with wooden stand
If, however having live plants are for you, these glass planters are perfect. Not only can do you have live plants in your nail salon which cleans the air and creates a naturalistic feel to any space, it's also very aesthetically pleasing. You can also use the planters as vases to place freshly picket flowers in.
Having a couple of comfortable arm chairs in your salon is a definite must. It creates the perfect space for your clients to relax while they wait for their appointment. Having comfortable chairs will ensure your clients are satisfied and  Investing in something luxurious is also a good idea. It will definitely give your nail salon the modern twist it needs.
Buy throw pillow inners Here
What is any space without a few strategically placed throw pillows. I absolutely love it when a couch or chair has throw pillows added to them. It makes the space feel neat and organized. It is also very pleasing to the eye. Make sure to choose some pillows with a modern design to match your salon stile.
Just like with throw pillows, having a beautiful throw hanging over- or draped over a couch looks and feels amazing. It gives an area a cozy feel to it. Throws are very trendy at the moment. You can also get a throw in almost any color and design of your choice if you know where to look. What's great, is that on colder days throws can double as small blankets. This specific throw is hand-woven and has a very unique color and design.
Rugs are great for tying any space together. It just rounds of a design so great. Rugs come in many designs so you can choose what best fits your brand. Rugs are the best in cold months as cold doesn't quite come through a rug as with tiles or wooden flooring. This rug is also designed to resist daily ware and tear. It is definitely a good idea to invest in a good quality rug to give your nail salon a feel of professionalism and class.
Hand Knitted Pouf Ottoman
An ottoman is the best invention ever! Not only does it look amazing in any setting, it also doubles as décor and extra seating. Ottomans come in many different designs, shapes and sizes. This specific one in plush and hand knitted. It generates a casual vibe while still staying classy and chic.
Having a side table in your waiting area is amazing. It doesn't take up a lot of space like a coffee table and can be placed between two arm chairs so that it can be used by multiple people at once. This is great for your clients to place their coffee cups or for you to add some reading material for waiting clients. This specific brand is great as it comes in a variety of colors and is made with renewable material. It's durable and can withstand a weight of a 100kg.
What girl can honestly say that she hasn't some time in her life dreamt of having her own chandelier? A chandelier is so classy and looks amazing in almost any setting. Create a classy and girly design by adding this light fixture in your work space or waiting area. Lighting is extremely important in any salon setting. Now you can have amazing lighting in style.
Some cute wall art in gold with boss lady quotes. This will make a great addition to your salon as having your own business and working hard to build your future and make a better life for yourself, makes you an amazing hard working boss lady. You can add this across from your work station so that when you look up you can be reminded of how amazing you are.
Having a key dish at your salon's entryway is a great idea. Your clients can throw their keys in there and retain them once they leave. This design is also quite fitting as your salon will be catering to predominantly women. For them to see a quote like this upon entry will brighten their day straight away.
All-Natural Organic Soy Candle
Scented candles are just the best. Not only to they provide a calming light and sets the atmosphere for relaxation, they also smell amazing and are a treat for the senses. This brand will go great in your salon. It's organic and completely natural which makes it even better. Choose the perfect scent that you want your clients to remember you by.
Desk Supplies Organizer with phone holder
I would personally love this in my own salon. Not only is it a beautiful design but it's great for storing your nail art brushes, and I can display my phone conveniently for when I am designing nails from reference. It is also made out of environmentally friendly material which is always great to hear.
Wall Mounted 5 Tier Nail Polish Rack Holder
This is definitely more nail related art. This beautiful book can come in many designs and colors which will look great when matching with your salon colors. You can either display your available nail colors or use it to show off your nail art skills by displaying some of your work.
If you found this post helpful or enjoyable please share it with your friends and family.